One never really puts much thought into stairs until one faces the prospects of needing them. Garden designers in London have pointed out to me the detailed thought process required for stairs designed in an outdoor setting. How many times have guests been in the garden after the rain and someone has slipped down the stairs? One thing is certain, nicely designed stairs leading into a garden can really transform the look and feel of the space, but they need to be safe.
The first steps (no pun intended) to choosing your design, as any good garden designer in London will tell you, is to focus on the landscape they are being placed in.
The two critical elements for your consideration when designing stairs:
1. The technicalities involved in building
2. The appearance of; and materials used in your design
The technicalities are simply related to how functional and practical your stairs will be for use. Your tread, the nice flat surfaces you step on, will need to be at least 0.30m or 12 inches. The risers, the separators between each step, should be a maximum of 0.15m or 6 inches. It is important to note that outdoor staircases are a completely different dimension to indoor designs. How does one work out how many risers are needed if stairs are being cut into the ground? Just divide the vertical height of the flight by the height of your riser. Once this is done, you need to separate the horizontal length of the flight into a suitable number of treads.
The appearance of your design does not only need to complement its surroundings. You really need to recognise the potential safety aspects of your chosen materials. So be sure to do your homework and speak to a qualified garden designer in London or one nearest to you.
Now, let's take a look at the styles of stairs for your consideration:
● Straight, L-Shaped, U-Shaped
Traditional styles you are likely familiar with
● Ladder Style
These can often appear to be almost floating stairs when designed without risers. These
are often used to connect small spaces.
● Winder Style
Although similar to the L-shape, these stairs do not have landings, and the tread doesn't
widen.
● Spiral Style
Designed for small spaces, stairs spiralling down to the ground really do have visual
appeal and can be very elegant in a garden.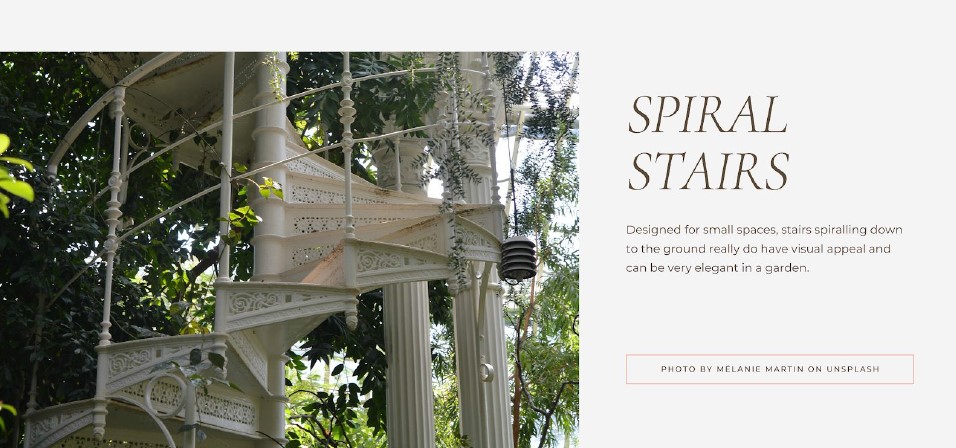 There are also a few contemporary design styles to familiarise yourself with. These are just some of my personal favourites:
● Stone-Age
A natural look of wide solid stone and green plants giving your garden an aged look.
● Harry Potter Stairs
This practical design is filled with storage spaces to keep your garden organised!
● Planters Haven
Why not create holes for planters so your stairs can come to life with the rest of the garden?
● Stars and Stairs
Let LED lights be the pathway to your garden. This is a prevalent trend in design right now. Get creative and research the use of LED lighting on stairs.
Your garden stairs are likely to be a place where many pictures are taken. When designing your stairs, keep in mind the types of occasions you may like to have in your garden: birthdays, a small garden wedding perhaps or even a simple event such as a baby shower.
Now you have started to imagine different designs in your garden; it is time to turn your dreams into reality. Construction has never been more affordable. Take advantage of this quiet time and create the garden you have always wanted!